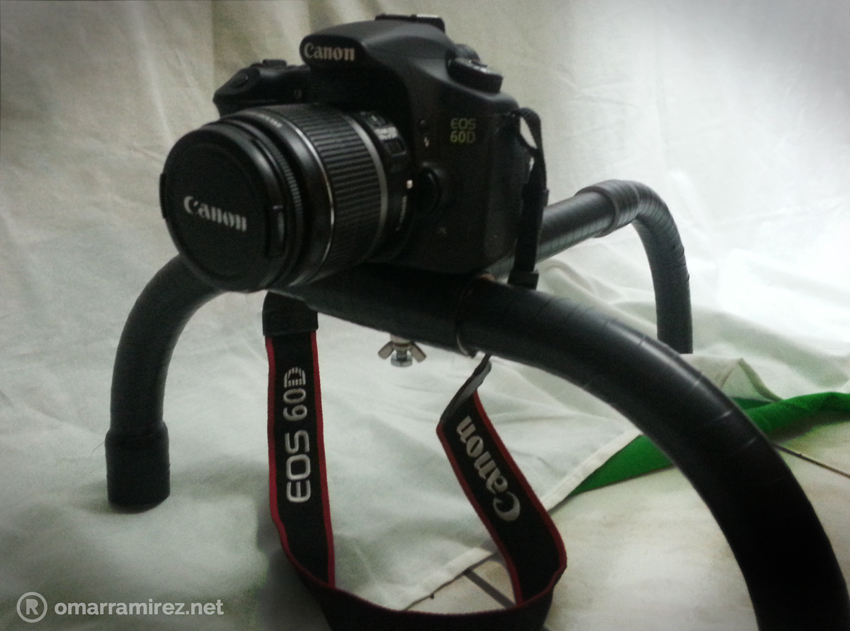 I have been experimenting with videography more lately, using my Canon 60D, which offers a good image sensor and set of features for video, including a pop-out swivel screen. But the bottom line is DSLR bodies are designed for photography first, and are not optimally shaped for shooting stable video. Searching online, you can find several products designed to help compensate for this, including all kinds of rigs and both official and faux Steadicam™ setups. These range in price, and can get very expensive, up to several times the cost of my camera. I started looking for simple, cheaper solutions.
At this point I remembered stumbling upon a tutorial for a cheap shoulder rig on YouTube. Searching for it, I found a ton of similar videos offering different variations on the theme. I decided to go with the simplest and perhaps lowest cost one I found. You can find it here, and see the resulting rig above. True to its claim, it only cost about $10 in parts, and took less than an hour to build. Though I'm sure it doesn't work nearly as well as a $10,000 setup, for the cost, it works pretty well, and is definitely an improvement over just going handheld.
Another simple hack I found involved the camera itself. Leave it to hackers to find a way to expand the functionality of the 60D and other DSLRs. If you're up for a little hacking yourself, and have a Canon DSLR, I suggest you look into Magic Lantern. Depending on your model, it can unlock some features otherwise only available on much more expensive cameras. And fear not, you don't have to risk bricking your camera. It can run off your SD card, without the need to meddle with the system's firmware.