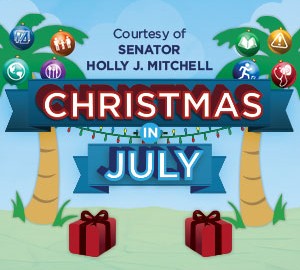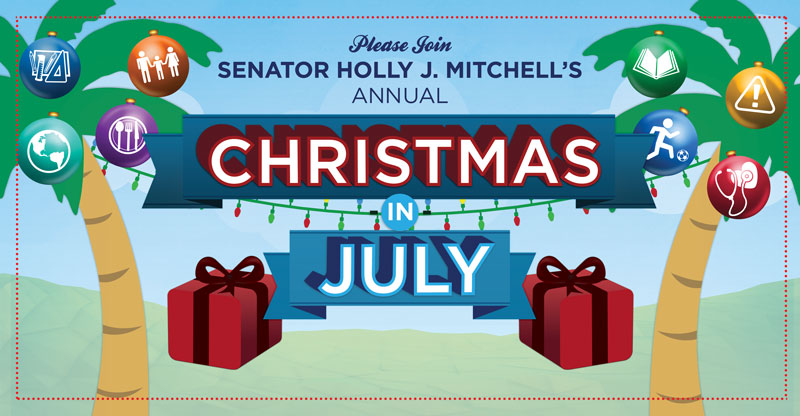 Christmas in July – Event Banner Print Proof, Final Size 48″ x 24″
Christmas in July is an annual community event promoting education, family unity, fitness, and wellness in the Los Angeles area. It has been put on by California State Senator Holly J. Mitchell (formerly Assemblywoman Holly J. Mitchell) since 2011, with the help of corporate sponsors and volunteers. Promotions had been thrown together and inconsistent in the first three years. I was called on by her team to develop a branding system and collateral for the event's 4th anniversary, to polish the overall presentation, clarify the point of its activity zones, and hopefully help attract more attention and sponsors to the event.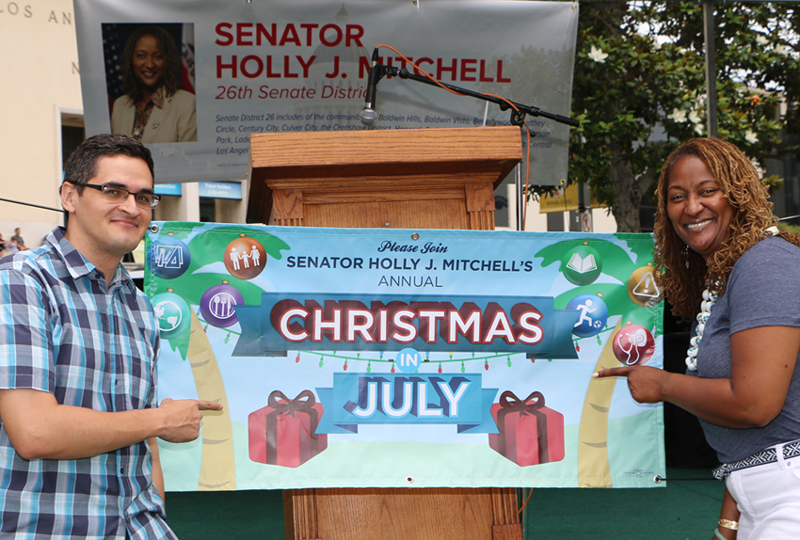 Christmas in July – Event photo with Senator Mitchell and event banner
After discussion with her team, palm trees and christmas ornaments became the focus of the event's visual brand identity, with the ornaments doubling as icons for each of the events main zones. I created custom icons for each of these zones.

Christmas in July – Event Zone Icons, Black and White
Here is how they were described in the final event map and schedule handout (in English and Spanish, for the large Latino audience of Los Angeles):
• Christmas Zone/Zona de Navidad: Special gifts and photos with St. Nick! Regalos especiales y fotos con San Nicolás.
• Food Zone/Zona de Comida: Yummy food from 11:30am-1:00pm! Comida sabrosa de 11:30am-1:00pm!
• Health Zone/Zona de Salud: Information on how to stay healthy and happy—for the whole family! Información sobre mantener la salud para toda la familia!
Reading Zone/Zona de Cuentos: Reading and storytelling time—ALL DAY! Leer y escuchar cuentos todo el día.
• Environment Zone/Zona de la Naturaleza: All things environment: biking, planting, rescued animals, conservation and more! Todas cosas sobre la naturaleza: montar la bicilcleta, sembrar, animales exóticas y más!
• Safety Zone/Zona de Seguridad: Learn about safety! Get your face painted and more! Aprende sobre la seguridad! Pinturas para la cara & más!
• Fun & Fit Zone/Zona de Diversión y En Forma: Where being active is lots of fun! Rock climbing, sumo-wrestling, zumba, hula-hoops, and cooking lessons! Dónde estar en forma es muy divertido! Escalada de roca, lucha de sumo, zumba, hula-hoops, y hasta clases de cocinar!
• S.T.E.A.M. Zone/Zona de S.T.E.A.M: Learn about app designing and coding, art and music, science, robotics, and movie-making! Aprende a diseñar y a codificar applicaciones de computadoras, arte, música, y como crear películas.
• Parent Zone/Zona de Padres: Where parents can visit Senator Mitchell's information table, demonstrations of healthy cooking, and more. Padres podran visitar la mesa de información de la Senadora Mitchell, demostraciones de comida, y mucho más.
I tied everything together in a bright stylized landscape with some custom typography and illustration work that became the foundation for the event's branding. The first communication put out with this branding system was the initial e-flyer, sent out via email blasts and posted on social media, seen here:
Christmas in July – Event E-Flyer/Web Promotion
Some additional components followed: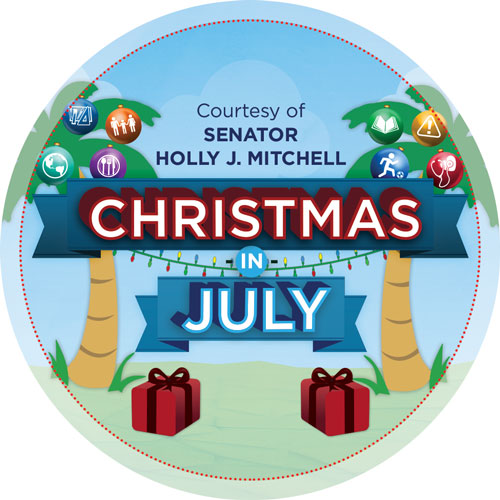 Christmas in July – Sticker (Croplines shown)
Christmas in July – Event Map and Schedule Flyer, Print Proof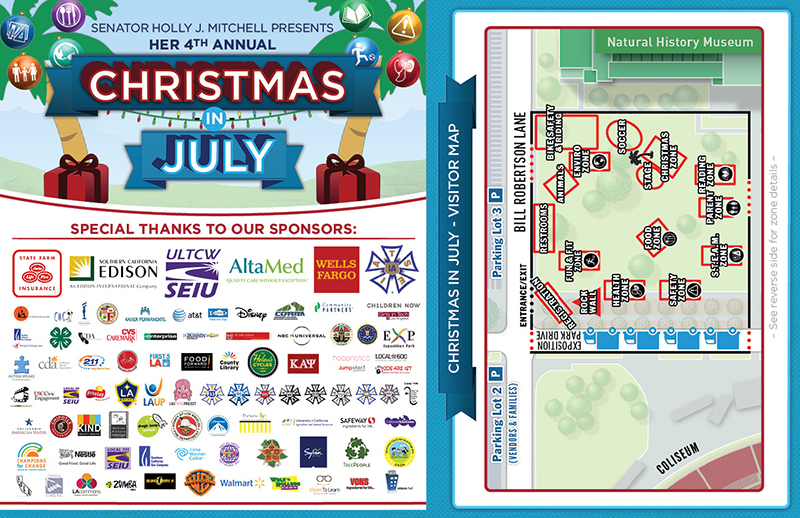 Christmas in July – Event Map and Schedule Flyer, Front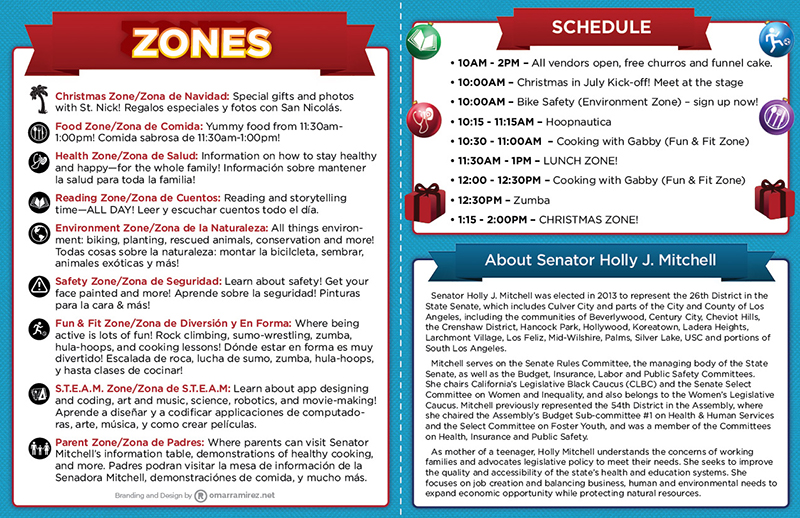 Christmas in July – Event Map and Schedule Flyer, Back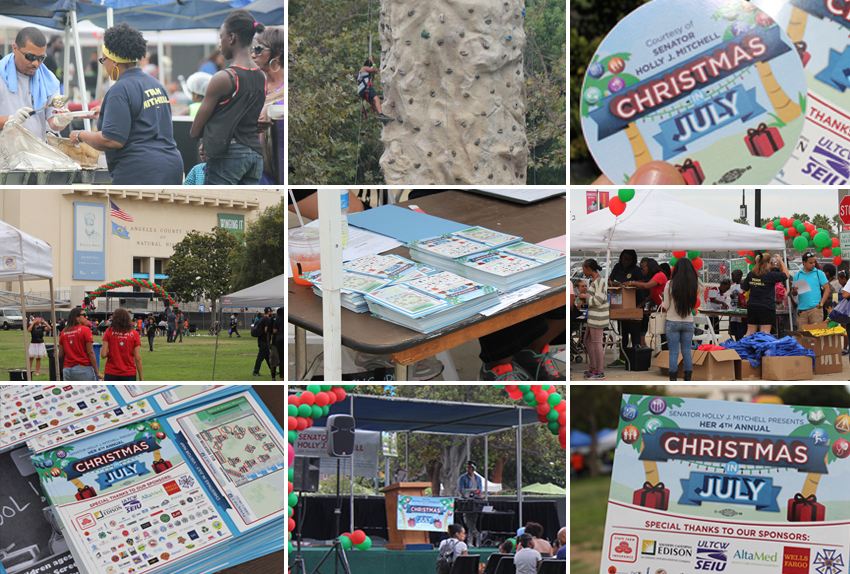 Christmas in July – Photos from the event