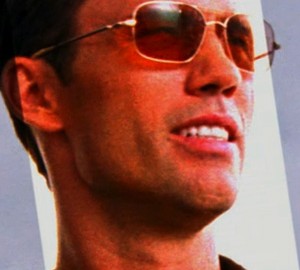 2010, Bluray Menu Motion Graphics Animation and UI Design
Burn Notice famously takes place in around Miami, and while Season 1's menus had emphasized the red tones of the Miami's sunsets, for Season 2, I chose to instead emphasize the cool blues of the surrounding water. The DVD edition spreads out over four discs (you can some samples of the DVD menus below), and I ended up building out four unique motion loop sequences, each highlighting a different key character from the show: Michael Westen (played by Jeffrey Donovan), Michael's mother, Madeline Westen (played by Sharon Gless), Fiona Glenanne (played by Gabrielle Anwar), and Sam Axe (played by my favorite, Bruce Campbell, of Evil Dead fame). I also built out the submenus with this theme in mind.
Season 1 had not been released on Bluray, and late in the production of the DVD set, it almost looked like the same would be true of Season 2. However, the shows producers changed their mind, deciding Season 2 would come to Bluray players. They made it clear they wanted the Bluray menu design to match the DVD as closely as possible. The result was a rather unique interface, to say the least, and motion that ended up being taken directly from the Michael Westen themed disc. To do this, I had to certain extent reverse engineer all my editing and animation, since I had only been working with SD clips – not enough for a true 1080p experience. What you see above is a sampling of the resulting Bluray menu.
2010, Sample DVD Submenus
DVD and Bluray Menu Design & Animation
Client – Fox Television
Studio – Trailer Park